RENDEZVOUS IN POINT REYES (West Coast Holiday #3)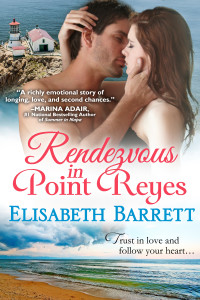 For shy, quiet Stella Flynn, love is an illusion. After a rough divorce, all she wants is to make a fresh start and get on with her life. Unfortunately, she spends all her waking hours working at her family's Napa Valley winery alongside her ex, the assistant winemaker. Unable to bear the thought of spending another weekend surrounded by lovey-dovey couples, especially after suffering through a lonely holiday season, she escapes to Point Reyes to wallow. Little does she know that an old family friend has other plans …
Sexy, free-spirited Jason Roberts has secretly been in love with Stella for years. The problem? She's his best friend's younger sister, and Stella's brother would kill him if he ever broke her heart. Besides, Jace is pretty sure that Stella thinks of him like another brother, not a lover. But then he notices the way she's looking at him, and one perfect kiss changes everything.
Over a long, romantic weekend, Stella and Jace discover that seduction is a game that's easy to lose … and that the path from friends to lovers is never as smooth as it seems.
150 pages, 37,000 words. ISBN: 978-0-9910943-2-5. October 20, 2015.
What people are saying about Rendezvous in Point Reyes: "Valentine's Day as romantic as they come." – Fresh Fiction
Order an ebook from: Amazon | Amazon UK | Barnes and Noble | iBooks | Kobo
*NEW* Buy it in print.