ONCE AND AGAIN (Return to Briarwood #1)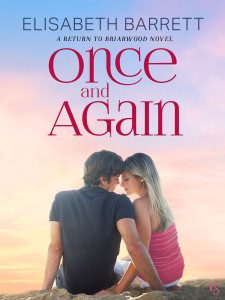 For readers of Shannon Stacey and Susan Mallery, the heartfelt new Briarwood series begins with a tale of forbidden love, broken promises, and second chances.
Growing up in Eastbridge, Connecticut, Carolyn Rivington was a young debutante who did whatever her parents asked. So when her father demanded that she break things off with the boy from the wrong side of the tracks or else, she did. Now Carolyn's family is deep in debt. She's no longer a member of the Briarwood Golf and Yacht Club, she's an employee. And the tanned, tattooed, dangerously handsome stranger who saunters into her lobby isn't just her new boss . . . he's also her first love.
The last time he saw Carolyn, Jake Gaffney was in the back of a police cruiser, handcuffed and humiliated. But seeing her again stirs other memories: a blanket on the beach, the moon above their heads, and the most expensive bottle of wine he could afford. Now the tables have turned. As a real-estate magnate and Briarwood's new owner, Jake doesn't have to answer to anyone. But now that he's back home, he's finding it hard to live down his old reputation.
Before they can move forward, Jake and Carolyn must face their pasts. But it'll take more than sizzling chemistry for them to heal old wounds and return to the love they once shared.
What people are saying about Once and Again:
"Elisabeth Barrett's Once and Again is a beautiful second-chance love story. A great summer read!"—New York Times bestselling author Claudia Connor
"Engaging, sexy, and immensely touching, Once and Again is a wonderful start to a new series."—Marina Adair, #1 bestselling author of Summer in Napa

"Elisabeth Barrett weaves true-to-life characters, sizzling sexual tension, and gripping emotional intensity into a heartwarming story of forgiveness, family, and second chances."—Lia Riley, author of the Brightwater series
"A sexy reunion romance overflowing with second chances to make friends, reconcile with family, and rekindle lost love."—Tracy March, author of Should've Said No
Approximately 302 pages, 90,000 words. ISBN: 978-1-1018832-3-5. Published July 14, 2015.
Order Once and Again from: Amazon | Amazon UK | Barnes & Noble | Apple | Kobo | Google | Other Places