CHRISTMAS IN TAHOE (West Coast Holiday #1)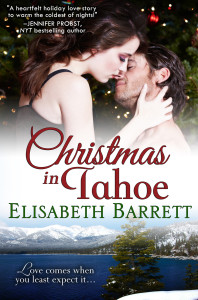 Silicon Valley actuary Ann Smith is an expert at calculating probabilities, but lately the odds haven't been in her favor. Two years ago her fiancé died a week before their planned Christmas wedding, leaving Ann heartbroken and alone. When a friend suggests heading up to Lake Tahoe for a long Christmas weekend of skiing, wine, and relaxation, Ann thinks it might be just the thing to help get her life back on track. But Ann's plans go awry when her friend cancels at the last minute, and Ann ends up driving to Tahoe with Chase Deckert, a sexy snowboarder who pushes all her buttons.
Chase Deckert is a man who lives by his own rules. A few years ago his business partner betrayed him by selling out their biomedical research for a quick profit. Chase left science far behind, and now spends his days snowboarding in Tahoe, wanting nothing to do with the dog-eat-dog world of Silicon Valley. Chase has closed his mind and his heart and only believes in one thing: fate. But fate seems to be in a giving mood, because joining him for Christmas is a brave, beautiful woman who shows him the true meaning of the season and helps him rediscover a part of himself he'd long forgotten.
Fueled by the mountain scenery, the season, and their unbelievable chemistry, Ann and Chase end up learning more about each other—and themselves—than they ever imagined possible. Can one long, steamy Christmas help them realize they're meant to be together? Or when the holiday is over will they be right back where they started?
What readers are saying about Christmas in Tahoe:
"A sweet, sophisticated read with a hero who will keep readers warm during those long winter nights." — NY Times Bestselling Author Jennifer Ryan
"A heartfelt holiday love story to warm the coldest of nights!" — NY Times Bestselling Author Jennifer Probst
"A weekend in Tahoe. A sexy snowboarder. This sensual Christmas story is one for the keeper shelf!" — USA Today Bestselling Author Jessica Scott
"Christmas In Tahoe is a feel good holiday story but it's also a super sexy love story about two people ready to leave their past hurts behind and move forward. I can't say enough good things about this book or this author." — Guilty Pleasures Book Reviews
"[The book] ends firmly with the idea that Ann and Chase will be happily together forever. But the ending itself is just the first step on that journey so it felt real and true. They've proven how good they are together through the book and I had no problem believing that their relationship was up for the big changes they would face together." — Heroes & Heartbreakers
Approximately 140 pages, 39,500 words. ISBN: 978-0-9910943-0-1. Published November 11, 2013.
Order an ebook from: Amazon | Amazon UK | Barnes & Noble | Apple | Kobo
*NEW* Buy it in print.