STAR HARBOR SERIES FOUR BOOK BUNDLE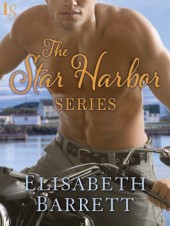 The wickedly handsome Grayson brothers are all grown up—but will they ever give up their bad-boy ways? Set in the picturesque Cape Cod town of Star Harbor, Elisabeth Barrett's contemporary romance novels weave sensual stories of desire and redemption. Now, with the entire series collected in one sizzling eBook bundle, there's a Grayson—or four—for all seasons.
DEEP AUTUMN HEAT
Worldly, famous, and notorious with the ladies, celebrity chef Sebastian Grayson had planned a weekend of fishing and relaxation with his brothers. But Lexie Meyers, a local café owner with kissable lips and a "get lost" attitude, makes him want to forget his culinary empire and create some magic with her. Sebastian fires up his charm and even dares her to join him in a televised cook-off. Lexie's been burned in the past and flings just aren't her thing. Too bad Sebastian can't resist a challenge.
 
BLAZE OF WINTER
 
Frustrated with her life in Boston, social worker Avery Newbridge welcomes the opportunity to help manage the Star Harbor Inn—but she doesn't count on distraction in the form of Theo Grayson. Not only does the gorgeous, green-eyed author have a talent for writing swashbuckling adventures, Theo also has a soft spot for bighearted damsels in distress. With every kiss and heated whisper Theo promises her his heart . . . if only Avery is willing to open up and accept it.
 
LONG SIMMERING SPRING
Dr. Julie Kensington remembers when the Grayson brothers were nothing but trouble. Back in high school, Cole's rugged sex appeal set her heart ablaze. Now Julie's finally ready to embrace her wild side, and Sheriff Cole Grayson—ex-military, tormented, and sexier than ever—is just the man to show her the way, unleashing years of pent-up cravings. Neither of them counted on falling in love, but together, they can overcome the past . . . and build a future.
 
SLOW SUMMER BURN
Cameron Stahl is the last sort of woman DEA agent Val Grayson ever dreamed he'd fall for. A beautiful socialite and successful entrepreneur, she's just opened her second boutique in Star Harbor. But one searing look from Val shows her exactly what's missing from her life. When Cam realizes she has the insider connections to help Val take down a major drug player, he can't stop her from putting herself in danger. But all Val cares about is saving the woman he loves before it's too late.
Praise for Elisabeth Barrett's Star Harbor series
"A delicious debut that leaves the reader hungry for more."—Emily March, New York Times bestselling author of the Eternity Springs series, on Deep Autumn Heat
 
"Absolutely adorable . . . a terrific contemporary tale complete with two complex characters who have full lives separately and even fuller lives once they start their relationship."—RT Book Reviews, on Blaze of Winter
"The Star Harbor series just keeps getting better and better! Long Simmering Spring delivers on all counts for heat, heart, and humor!"—New York Times bestselling author Jennifer Probst
 
"If only Star Harbor were a real place; the town is charming and Barrett perfectly captures that New England beach town feel."—Heroes and Heartbreakers, on Slow Summer Burn
1166 pages. ISBN: 978-0-8041-8044-3. Published January 27, 2014.
Order from: Amazon | Amazon UK | Barnes & Noble | Apple | Google | Kobo | Other Places